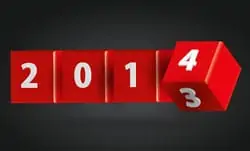 First, I want to thank all of the members who have supported Passion4dancing.com in the past year.
In 2013, we have continued adding new content including video lessons, articles and tips.

The biggest highlight is that we have added a new dance – The Tango. There are currently 6 Tango lessons available with more to come. Along with the other dances, we now have lessons for a total of 6 Latin and Ballroom dances.
In addition, several of our Youtube videos have gone viral. Our videos get an average of 100,000 video views per month. Our Swing basic step video has 231,652 views. And our Rumba basic step video has 311,784 views as of right now. This is great exposure for our brand.
Subscribe to our Youtube channel here.
To add, just recently we have added a new feature to our members – The monthly music lists. This is where we list 5 new Latin and Ballroom song titles and their artists every single month. We noticed that many people wanted new music to practice their dancing to so we decided to include these music list and help inspire them with new music.
Lastly, we have also started to redo some of our early lessons where the video quality was lacking. Check out the newly remastered Salsa basic step and Cha Cha basic step in HD quality – Free.
In 2014, we will continue adding new videos to the existing dances and start shooting Bachata dance lessons!
We also hope to include more interviews with professional dancers.
As always, if you have any suggestions or feedback for us, leave a comment below.
Happy new year,
Leon & Kim