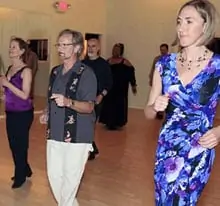 In the 3 benefits of taking private lessons article I discussed why private instruction is useful. In today's article I'd like to present 3 benefits for taking group Ballroom dance classes.
1. Very Inexpensive
Most people start out taking group dance classes because of how affordable they are. The price ranges between $10-$18 per class depending on the region you live in. For most middle-class families this is very doable. In most places you can do a drop-in class for that price but some studios run group classes as "courses" that require you to sign up for an entire series of classes (like 4-week series). Still those course are super cheap compared to private dance lessons. For example an 8-week course can run you $96 USD. In many places you can also get a discount per class if you buy a 10-class card in advance. So price is definitely not a barrier to starting Ballroom and Latin dance classes.
2. Great for review and practice
Group classes are also great for practicing steps and reviewing steps you may have already done. Typically classes start with reviewing the moves from the previous week before moving on to new ones. Usually the teacher will review the steps for men and for women and then explain how to lead and follow them. This is really good because most people forget steps very quickly and need to review them at least a few times. Also, after the teaching portion of the class, there is always time for "just dancing" and practicing the material. You will be able to practice slowly first and then speed it up with music.
3. Very Social
Group classes are very social in nature because you are sharing the classes with other people. There could be anywhere between 7 to 40 students in one class. It is very normal for students to make friends at their dance classes because they see them every week! The social atmosphere makes learning how to Ballroom dance fun and interactive. In my own dance classes (in Boston MA) I have a "switching partners" system where when I say "switch" the couples must rotate partners. This is great because it allows people to get to know one another and it also makes them learn from each other. All in all group classes are a great way to become more social and learn something at the same time.
There are many other great reasons to do group classes and I always recommend for people to learn dancing with multiple methods including private, group, online lessons, dvds and anything else you can think of.
Related Articles:
3 Benefits of taking private lessons
Improve your confidence on the floor
More dance articles
Written by Leon Turetsky