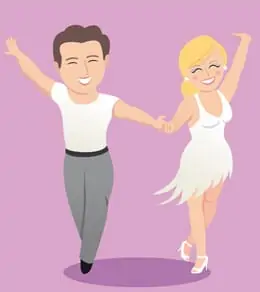 In the The best kind of teacher article I talked about what makes a great dance instructor. In this article we will explore 5 qualities that make a great student of dance. There are many more but this is my selection of the top ones that I look for when I am working with someone. Do you practice them? Which ones can you improve on? Leave a comment below.
Adopts a beginner's mind
"In the beginner's mind there are many possibilities, but in the expert's there are few."
– Zen Master Shunryo Suzuki
The best type of student is open to all new information and practices the "I don't know everything" philosophy regardless of what their dancing level is. This student is receptive to the teacher's feedback and knows that there is always something they can improve on. This is important because their mind is not clouded by how things should or shouldn't be, they simply accept the learning process. They are very receptive to reviewing the most basic steps/techniques as many times as needed, even if they had done them before. This beginner mind set will keep you humble, hardworking and positive throughout your Ballroom dancing journey.
Warm up for lessons
The best Ballroom dance students are the ones that show up early and warm up their body and mind for their lessons. They usually arrive at the studio at least 20-30 minutes before their lesson to set their mind on dancing, go over their routines and warm up their muscles and joints. This is the one quality that can make the most impact on one's lesson but often ignored. From a mental stand point I can't tell you how many times I had students who were completely distracted by some other "life things" during their lessons. They were clearly not mentally ready and their lessons were not as productive. Taking just a little time to switch your mind off from whatever you were just doing and focus on your dancing can make a huge difference to how you absorb information. From a physical stand point, you also need to warm your muscles up for dancing. In most cases students only truly warm up AFTER their lesson is over… Instead of prior to the lesson. This is sad because you will physically not be able to do your best dancing with cold ankles, torso and joints. The key is to plan to arrive a bit earlier and properly warm up.
Practices outside lessons
The best dance students schedule at least 1-2 hours per week of practice time on top of their dance lessons in order to review what they have been learning. It is quite simple, if you want to progress consistently you need to practice regularly as well. Taking lessons alone is not going to be enough because you will not retain all the information you are getting. You need to repeat the same hip action, arm movement or spin you learned a million times so it finally sinks into your muscle memory and becomes a habit. Everyone needs self-reflection and time to figure things out. In fact, sometimes it's better to have less lessons/classes but do more practicing! By the way, teachers can immediately see if the student has been practicing or not!
Related reading:
A brief guide to dance practice
Asks questions/Engaged
Teachers love students that are curious about what they are learning and ask lots of questions. It makes the lessons very engaging and fun. The student that asks questions gets a much deeper understanding of their subject and thus progresses faster. The teacher also feels satisfied knowing that the student cares about the subject and that he could help him/her get it. There is nothing worse than having a student who doesn't speak up at all and makes the teacher guess what is on their minds all the time. Learning dance needs to be looked at as collaboration between both the teacher and the student. So speak up!
Values the teacher's time
Lastly, a good student is grateful to have their teacher spend their time teaching them. This student is "happy to pay" them for their time understanding that this is how they make a living. Teaching dancing requires both physical and mental focus that is very draining and teachers want to work with people that appreciate their efforts. And yes there are students who feel that dancing should cost next to nothing and are resentful for having to pay for lessons. These students need A NEW ATTITUDE. Respect your teacher's time and energy and you will go far!
Related:
Is Ballroom dancing expensive?
Leave a comment below…
Written by Leon Turetsky.
Want more?
Articles on dancing
Ballroom dance steps