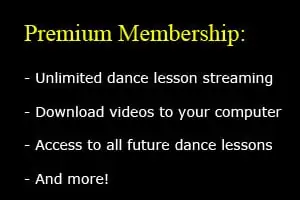 This is an exclusive announcement to our members.
How would you like to download our videos?
And watch them anytime, anywhere?

—
I hope you have been enjoying all the content on Passion4dancing.com.
As one of our early members you had the chance to join for free and check
out all of our dance instruction videos, articles and videos podcasts. The
positive feedback I have received from you (our members) in the last 1.5 years
since our inception has blown me away. Some of you said that our online dance
lessons are the best on the web… Kim and I are thankful and grateful for all
your support!
So what's the deal?
Let me clearly explain what's about to happen.
Up to now, we only offered 1 membership level – The basic (free) membership
account. And while we'd love to continue giving everything away for free,
we too, need to eat (cheesecake is my favorite)…
The truth of the matter, is that passion4dancing has now become a FULL
time project. Don't get me wrong, its a very fun, passionate project, but
nonetheless, very time consuming. We are also incurring internet, video
streaming and other expenses. So what's the solution?
A very affordable premium membership account! It will take full effect
on April 1, 2011. If you think our content is worth at least 1 Starbucks
coffee cup per month then you will be happy to upgrade to the
premium membership account. More details to come soon.
Access to our content after April 1, 2011:
Basic (free) membership:
You can remain a Basic (free) member for as long as you wish!
What will change is your access to our content. You will be limited to
only 8 basic dance lessons and with no access to any of our future videos.
You will still have full access to the articles and forums.
Premium (paid) membership:
When you upgrade to the premium (paid) account, you will get unlimited
access to all of our current dance lessons (Over 25 videos), plus all future lessons.
How would you like to be able to DOWNLOAD our videos to your computer?
You will be able to do that too with a premium account. You will also get unlimited
access to all the articles, video podcasts and forums.
Pricing and other details are soon to come.
if you have questions or comments email me at [email protected].
Leon Turetsky
Creator of Passion4dancing.com