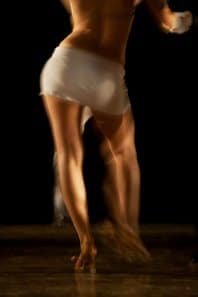 This guide is strictly for women. If you are a man, check out A guide to dance underwear: Men.
While the subject of regular underwear may seem taboo, dance underwear are simply cool to talk about. This guide was written with extensive polling from female dancers.
Let's face it, looking good for dance is sometimes more important than the dance itself! Sooner or later you will need to figure out what to wear for your dance practices, outings and competitions. And while you may focus on the tops, skirts, leg warmers, and all the other fancy garments first, the type of underwear you choose for dancing can make or break your entire look and feel. But no worries, Passion4dancing is here to help! In this short guide we are going to feature some of the ordinary types of underwear that most of you already own and give you the good, bad and ugly scoop about dancing in them. After that we will provide you with a few suggestions of dance underwear in the market today that were specifically made for dancing.

1. Briefs (Bikinis)
Briefs are probably the comfiest underwear all around and are characterized with offering full coverage in the front and rear.
Dance Analysis:
Comfort: Excellent comfort!
Look: Because they tend to be a little bulkier than some of the underwear coming up next, they may have lines showing through pants and jeans. This will not give you the ideal dancer's look.
Feel: You may feel as though there is too much fabric down there (bunch up) when worn with tight dance pants or tights. Plus they tend to ride up during certain dance movements causing wedgies!!
Overall: Not ideal for dancing unless they are very tight.
2. Boy Shorts


Boy shorts are a snugger version of men's briefs and offer full coverage of the front, rear and hip areas. They also provide a peace of mind when wearing a skirt.
Dance Analysis:
Comfort: Very comfortable.
Look: Ideal for wearing skirts. If worn with pants, you will run into the same problem as the briefs where the lines of the shorts may show.
Feel: They are usually snug against your skin and will not ride up much. However, if worn with anything other than a skirt, they may feel too bulky.
Overall: Great for dance skirts.
3. Thongs


The thong style of women's underwear provides coverage in the front but at the back and sides the material is reduced to a minimum.
Dance Analysis:
Comfort: Comfy but not as much as the two previous styles.
Look: No lines! Because there is less fabric, there are hardly any lines showing through when wearing pants. When it comes to skirts though, it's not a great option (too much exposure!).
Feel: You don't really feel them. This allows for freedom of movement and concentration on what's important – THE DANCING!
Overall: Great to wear with pants or tights.
Now that you got an idea of what you can do with just your regular undies, let's look at some dance underwear products out there that were designed specifically for dancing. The following were designed to provide you with the ideal comfort, look and feel for dancing.
Recommended Dance Underwear:
(Click on the links to check them out)
Boy Shorts (From Amazon):

Dance Thongs (Not available on Amazon)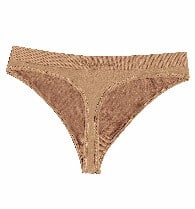 Sansha Seamless Thong Undergarment – $10.50
ALSO
Capezio® Seamless Low Rise Thong – $10.00
Do you own any of these? If so, which ones you like the best?
Also, what underwear do you wear for your dance practices?
Comment below!
Written by:
Leon Turetsky & Kim Le