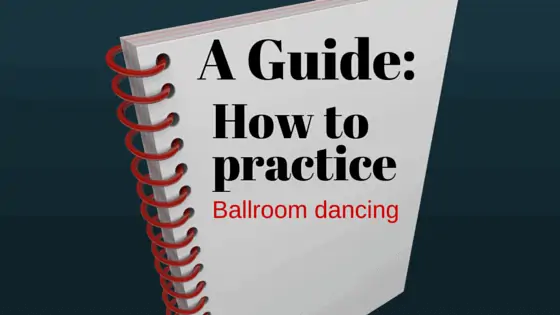 Practicing between your Ballroom dance lessons is the single most important thing you should be doing if you want to improve.
In fact, I believe it is more important to practice than to take lots of lessons.
Why? Because in the lessons is where GET NEW information/knowledge, but it is only during your Ballroom dance practice that you can RETAIN what you have been learning.
I often hear from my members that they can't remember their moves, retain techniques, or execute all the dances they have been learning. And then I realize it's usually because they only take lessons – they don't practice much.
Big mistake… You can potentially spend lots of hours and money on Ballroom dancing and not get anywhere without consistent practice.
So let's say you are sold on the idea of practice, what do you do?
The majority of people have no idea how to practice their dancing effectively and make the best use of their time.
No worries I was in your position. As a professional Dancesport competitor I was constantly trying to analyze the best way to practice my own techniques/routines. I wanted to craft a perfect practice – one that gets results. A practice I can feel steady improvement from.
I am happy to say that after countless of hours of trying things out, together with advice from the top dance teachers in the world, I finally narrowed down one system of practicing that I currently use myself to practice with my wife, Kim. And I am happy to share it below. Now, you may not be a competitive dancer, but that doesn't matter. Any social dancer can use this system to practice and improve their dancing.
The following system can get quite complicated. I will give you the basic idea, but you can alter it in any way to suit your needs and time frame.
Ballroom dance practice system overview:
Step #1. Choose subjects: 2-3 subjects you want to improve.
Step #2. Divide the time: Allocate the time to work on each subject.
Step #3. Make a weekly schedule
Let's look at each one now.
Step 1: Choose 2-3 subjects
Everything starts with what you want to actually improve.
When I use the word "subjects", I am referring to specific performance, technique, Routine elements you want to focus on in your practice.
Here are some examples of subjects to choose from:
– Keep the Rhythm/Timing in every step
– Sharper leg action
– Fuller hip movement
– Awareness of posture
– Arm movement coordinated with my leg action
– Use of frame to lead
– Listening to the partner's lead
– Be able to transition between the 7 moves I know in Salsa
– Use the standing leg to push into the next step
– Awareness of my partner
– [For Showcase] Eye contact with audience
– [For Competition] Create big volume in my body
As you can see it can be anything. So what do you want to get better at?
You want to look at your weak points that need work. Is there something your teacher is repeatedly on your case about? That could be a good subject to focus on. You can always consult with a teacher about this.
Take a piece of paper and write down 3 subjects right now. Now take each of the subjects and make them as specific as possible.
For example: I want to stay on time in cha cha by stretching counts "1" and "3" longer.
Another example: I want to listen to my partner's lead and react faster to the direction changes that he leads me into.
Last example: I want to make sure that my arm movements are always related to what my legs are doing in Rumba – So that my arms are coordinated with the entire body.
I hope this is becoming more clear. Basically come up with 2-3 subjects you want to work on for the next little while (2-4 months).
Note, you can even pick specific subjects depending on the dance…
For example, if you have been struggling with dropping your posture and frame only in Waltz, your subject for the Waltz can be something like: "I want to create a better posture by constantly stretching my spine up during the Waltz".
Okay now that you have your subjects let's move on.
Step 2: Allocate the practice time
Okay you got your 3 subjects, now let's figure out how to actually practice them.
Most people make the mistake of trying to work on ALL 3 subjects at the same time. Unfortunately our brains are not that good at multitasking and often time you will just confuse yourself without actually getting anything done. You need to focus on 1 subject at a time to make any real progress.
We will look more in depth into how to structure a weekly practice in the next section, but for right now let's just assume that every time you practice, you will do 45 minutes. It can also be 60 minutes, 1.5 hours, or whatever you want… that is up to you. So for our example, you will practice for 45 minutes. Divide it into 3, 15-minute sections and assign each subject to a 15-minute slot.
Here is an example:
1st 15 minutes: Focus on turning out my feet in Rumba moves 1-5 or a routine you may have.
2nd 15 minutes: Focus on rise and fall in all the moves in Waltz.
3rd 15 minutes: Really listen to the music and stay on time during my Foxtrot basic steps.
So for 15 minutes you are just doing 1 thing only. Use a timer to let yourself know when the time is up. As soon as the timer ends, switch into the next subject.
It will take time in the beginning to be able to focus on just 1 subject, but if you do this, I promise you will see results. As you practice you will catch yourself, as do I sometimes, starting to drift into another subject – but you need to practice self-control and stay focused on the task at hand. I can't stress this enough, you need to stay with one subject for a whole 10, 15 or 20 minutes so that your body will get the necessary repetition it needs to develop muscle memory.
Since Ballroom and Latin dancing has so many elements, you need to practice them all, but NOT AT THE SAME TIME.
Within those 15 minutes you will have the time to go deep into improving THAT ONE SUBJECT. Start by dancing to music, then slow down… Do the movements with different speeds all the while only trying to work on that one thing (your subject). Don't do a lot of talking, just try to feel your body doing the right things over and over again.
Step 3: Weekly schedule
So now it's time to put the above steps into a weekly schedule.
You want to create a sort of plan that you can follow every week. Usually you'd want to go through each dance every week at least once. But this greatly depends on how often you practice. So if it takes you 2-3 weeks to go through each of your dances, this is okay too.
Rather than get too wordy, here is an example of a weekly schedule that you can copy and modify:
Let's assume the following:
– You practice on 3 days: Mondays, Wednesdays and Fridays.
– You are focusing on these 3 dances this week: Cha Cha, Salsa, Foxtrot.
– The 3 general subjects are: Posture, Timing/Rhythm, Leg action.
– And you can practice for 45 minutes per day.
So what you can do is on each day do 1 dance with all 3 subjects.
Here is a rough plan:

Day 1 Monday – Cha Cha
Cha Cha 1st 15 minutes: Work on posture
Cha Cha 2nd 15 minutes: Timing/Rhythm
Cha Cha 3rd 15 minutes: Leg action

Day 2 Wednsday – Salsa
Salsa 1st 15 minutes: Work on posture
Salsa 2nd 15 minutes: Timing/Rhythm
Salsa 3rd 15 minutes: Leg action

Day 2 Friday – Foxtrot
Foxtrot 1st 15 minutes: Work on posture
Foxtrot 2nd 15 minutes: Timing/Rhythm
Foxtrot 3rd 15 minutes: Leg action
Notice I am using the same subjects for each dance – but you can do different subjects depending on the dance too. This is just an example and again you should modify it to your needs. For instance, you may want to only work on 2 subjects per day and then use the last 15 minutes to just go through all the dances for memory sake. That is okay too.
Or you may want to do 10 minutes per subject and do more dances per day – it's all good. You can get creative and make a plan that works for you.
My personal Ballroom dance practice with Kim started off quite complex, and over time we simplified… We figured out that for us doing less subjects for longer time was more beneficial. We also found out that I needed my own subjects and she wanted to work on different subjects for herself. So yes, you can do the same dance and same moves and work on completely different things!
At the end of the day – just having some plan can make all the difference. So next time you go to your studio, take a few minutes to make a plan before you start dancing. Best of all, you can do this with a partner or solo. That's right you don't need a partner to practice and improve your dancing with this system.
I hope you found this guide useful and that you will actually implement it in some way.
If you have any questions please leave a comment below and I'd be happy to answer.
Related:
How to find a dance partner
Best dances to learn
Should you teach your partner
The best kind of teacher
Ballroom Basic dance steps for beginners