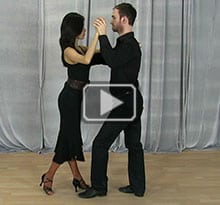 The video below will teach you the most basic Cha Cha dance steps for men and women.
The Cha Cha basic in place is the perfect step to start with and use in social dancing. Right below it you will also find the video on how to count the cha cha dance – which will help you with the rhythm.
If you enjoy these 2 videos let us know in the comments below.
Most Basic Cha Cha Dance Steps: The Basic in place Video:
Summary: This fundamental cha cha step consists of a triple step in place and rock steps forward and back for both men and women. Be sure to count your steps in the beginning to really get it.
Also, How To Count The Cha Cha:
Summary: The way you count the cha cha dance is: "1,2,3, Cha, Cha" and repeat. The 1,2,3 counts are all full beats, while the Cha, Cha are half beats (therefore faster).
---
Want to get access to all our dance lessons? We offer a membership that includes access to 250+ Ballroom and Latin dance videos online.


Want More? Learn more Cha Cha dance steps:
Cha Cha basic step #2: Progressive Basic Step
Cha Cha basic step #3: Side Basic Step
Underarm turn in Cha Cha
More Cha Cha dance lessons
Any Questions? Please leave your comments below…