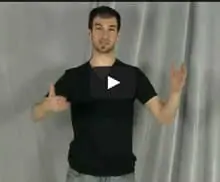 Many people ask me "Can I take the dance class even if I don't have a partner?"
You may think that because Ballroom dancing is danced with a partner you need to have one, but as I explain in today's video – It is far from the truth…


In summary, you don't need a partner to learn Ballroom dancing or to practice. There are so many dance elements to worry about like timing, technique, leg and foot work – which have nothing to do with a partner. Instead of worrying about having a partner, you should be learning how to find the beats in the music, how to dance the basic steps correctly and practicing your technique.
Yes you will also need to learn how to lead and follow when you get together with a partner. But don't you think it will be much easier to dance with someone when you already gotten your timing, steps and technique?
So forget about having a partner and just focus on improving your own dancing. It will pay off in the long run.
What do you think? leave a comment below.