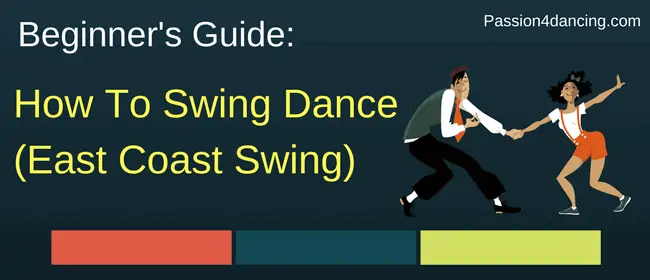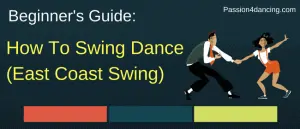 Learn East Coast Swing dance moves with our detailed video below. We will show you how to do 2 of the most basic east coast swing dance steps. The basic step consists of a rock step and then 2 triple steps for both men and women.
The best thing about east coast swing is that how many songs it can fit. It's 4/4 musical structure makes it fit almost any genre!
East Coast Swing Basic Steps:
Summary of the Swing dance moves
Men:
Starting with left foot
Rock step – Step back with left and replace on right.
Triple step to left – Side, close, side (left, right, left)
Trip step to right – Side, close, side (right, left, right)
Women:
Starting with right foot
Rock step – Step back with right and replace on left.
Triple step to right – Side, close, side (right, left, right)
Triple step to left – Side, close, side (left, right, left)
Technique:
You want to keep the knees working throughout the dance by bending and straightening them. At the end of every triple step you should arrive on a bend leg, with a pendulum action of the hip, and then as you straighten your knee, you prepare yourself to triple step to the other direction.
What is the East Coast Swing Anyway? History & Character
This dance was originated from the lindy hop and it's main characteristic is the "triple steps" and "rock steps" used through out the moves. This dance incorporates lots of turns, spins and fun hair loops. It can be dances to slow or fast music. Some of the popular songs today fit the Swing including "Cooler than you" by Mike Posner, and the classic tune "Baby Workout" by Jackie Wilson. Please keep in mind that the East coast swing is different than
West coast swing
.
To keep it very simple, you can count the east coast swing just like I did in the video above "rock step, triple step, triple step". With numbers you can count "1,2", "3 a 4", "3 a 4". As you can see the triple step is done over 2 counts only, and therefore it's faster than the rock step (which are full beats). The beat value for the steps would be: 1, 1, 1/2 ,1/2 , 1 – 1/2, 1/2, 1.
---
Want More Dance Lessons?
We offer a membership that includes access to 250+ Ballroom and Latin dance videos online. Including American & International style videos.
Membership Info & Registration
Related:
More Swing dance lessons
Get More Dance Lessons:
How To Cha Cha Dance
How To Rumba Dance
How To Waltz Dance
Salsa Basic Steps
How To Dance Bachata
How To Dance At A Wedding
What did you think? Leave a comment below!