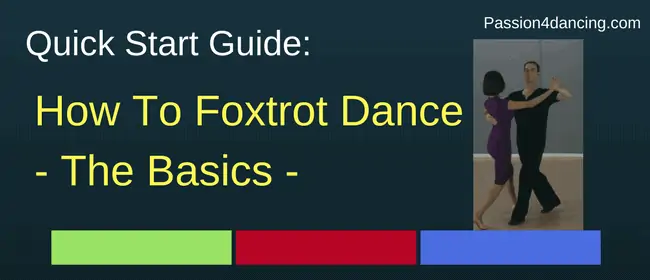 Learn the beginner Foxtrot steps for men and women. Foxtrot is one of the most social Ballroom dances out there and you will be able to use these steps in many social situations. Another dance you may want to check out is the Waltz.

Most Basic Foxtrot Dance Steps:
Men:
Fwd with left foot
Fwd with right foot
Side with left foot
Close right foot to left foot
Women
Back with right foot
Back with left foot
Side with right foot
Close left foot to right foot
Pro Tip:
To achieve smooth gliding across the floor you need to practice passing your feet without stopping, and also making sure the men are stepping forward from their heel and ladies going back from their ball of the foot.
Summary of Foxtrot Count:
The music is structured in phrases of 8 and the way you count this dance is: Slow, Slow, Quick, Quick. The slow is 2 beats, and the quick is 1 beat. An alternative way to count it is with numbers: 1,2 (Slow). 3,4 (Slow), Quick, Quick (5,6). Don't worry about it ending at 6 beats, what is important is that you keep the right beat value through out.
Lastly, What is the Foxtrot anyways? Foxtrot Character:
The Foxtrot dance originated around 1910 and is still danced today all over the world. This dance has similarities to the "rise and fall" of Waltz, but the steps do differ for the most part. The character of this dance has a smooth gliding feeling across the floor. It is one of the easiest Ballroom dances to start learning for new students. It fits many of the "big band" type of music including "Fly me to the moon" by Frank Sinatra as well as "Can't take my eyes off of you" by Frankie Valli.
Related:
Foxtrot technique for basic step
More Foxtrot dance steps
More ballroom dance lessons