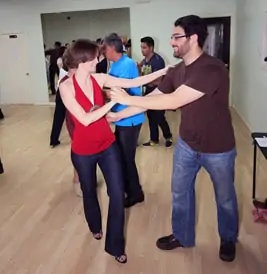 What separates great dancing from average dancing?
It is the mastery of fundamentals.
Too often when people start learning how to dance, they want to get to the more complex moves right away. They want to get the basics over with as quickly as possible and move on to "cooler stuff". Of course the Rumba walk pales in comparison to the glory of the triple spin!
But what they don't understand is that by avoiding learning the basic steps, they will not be able to do the elaborate and complicated dance moves in the future.
The building blocks of all Latin and Ballroom dancing are basic steps and techniques. So to truly understand the dances, you need to understand their fundamentals. You need to spend the time learning the simple Rumba walk, Cuban motion, dance technique and other basic principles.
I get it. It's boring!
Boring but essential.
Ballet dancers do it all the time. Even the best prima ballerina starts her daily practice with simple, tedious barre exercises. They involve nothing more than pointing the feet and balancing on the standing leg. Only after this basic warm up does she dive into her "Swan Lake" routine. She understands that her basic technique work is what PREPARES her for her advanced repertoire. She knows that complex choreography requires absolute mastery of fundamentals.
Is it possible to improve the basics without getting too bored?
You betcha. Think in increments. Start each and every practice with the basics. Work on them for about 10-15 minutes. Only after that, move on to the more advanced moves. Commit to doing this at every practice and you will surely become a great dancer.
What do you think? Leave your comments below.
Written by: Leon Turetsky
Related:
The problem with "Dancing With The Stars"
A Tip from Markus Homm
Dance practice guide
View our online dance lessons:
Salsa dance steps
Rumba dance steps
Merengue dance steps
Cha Cha dance steps