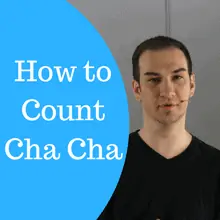 Learn how to count the Cha Cha steps in this video. I explain the beat value of the Cha Cha dance and Cha Cha rhythm, show you how to count it with Cha Cha music, as do the Cha Cha basic steps to count so you can see how it applies.
Watch the video and let me know if you have any questions.



Cha Cha Rhythm Explained
It is a 4/4 musical structure and the way you count the cha cha is 1,2,3,cha,cha and repeat.
The first 3 beats are full beats and the cha, chas are half beats.
The key is to realize that the full beats are slower and the half beats are faster – That means as a dancer you need to make sure you give the right amount of time to each beat.
Related:
The Cha Cha basic steps
All Cha Cha dance steps
The Blog