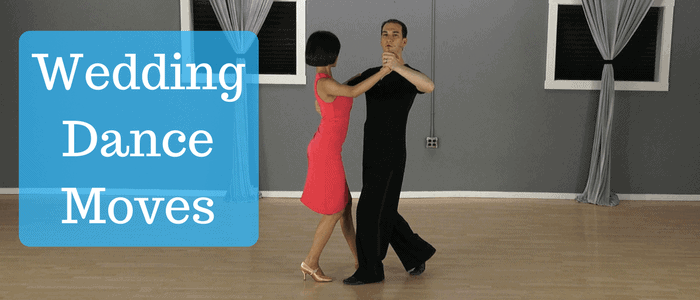 Learn how to dance at a wedding using easy dance moves perfect for couples dancing. In this video you will learn how to dance the Foxtrot basic steps – which are very easy to do.

The key is to get around the room smoothly… As you approach a corner, that is the perfect time to do the rock step turn and get back to "the line of dance" (counter clockwise) with your basic step.

For the basic step:
Men: Forward, forward, side, close
Ladies: Back, back, side, close
For the rocks step (the corner step):
Men: Forward,replace, side, close
Ladies: Back, replace, side, close
How to dance at a wedding – Extra tips:
You will use the closed hold in this dance. That means the men's left hand is connected to the lady's right hand. And the men's right arm is placed on the lady's left shoulder blade area, while the lady's left arm is placed on top of his shoulder. Be sure to apply a little bit of pressure forward so that you are "connected" to one another for better leading and following.
How to count the Foxtort:
The music is phrased in counts of 8 so you want to listen to the beats and count them 1-8. Once you're able to do that you can count the foxtrot basic timing which is: Slow, Slow, Quick, Quick. That means the slow gets 2 beats and the quick gets 1 beat.
Want more details on each of the basic steps covered?
Check the individual moves below:
The Foxtrot basic step
Foxtrot rock step turning left
Want more Social Ballroom Latin lessons?
Become a member and get access to over 250+ video lessons that you can watch at anytime, from any device – 24/7. Learn Cha Cha, Salsa, Foxtrot, Rumba, Swing, Waltz, Tango, Merengue and more.
Membership Info
Any questions? Leave a comment below and let us know