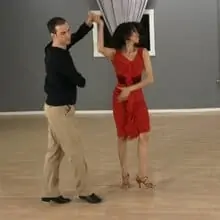 Big Announcement! Watch Preview below…
In the past few months we have been working on filming the International style dances. While we have not shot all of them – we got a bulk ready to be published. In the nearest future we are going to be posting the following 4 dances: Int. Style Waltz, Tango, Rumba, Samba. Later on we will add the other dances as well. The International style dances are done by Egils Smagris and Sveta (from Latvia!). While the Int. Style Latin are done yours truly Leon and Kim.

Here's a little preview:
Are you excited or what?