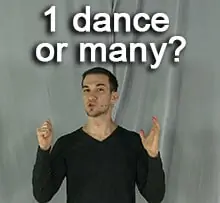 How many dances should you learn at the same time?
When you start out you may only want to focus on just 1 dance, in fact many people want to do just that. But is that a good idea? Well there are pros and cons. Watch our podcast to see what we think.





[Transcript]
Hello. My name is Leon and I'm from Passion4Dancing.com and today we have another video podcast for you. We want to talk today about, "Should you be learning one dance at a time or should you be learning multiple dances at the same time?"
There are pros and cons to both. But I would recommend if you're looking to learn for social dancing so that you can use what you're learning in weddings, dance studio parties, clubs, those types of situations, you need to know more than one dance and I definitely recommend learning a few different dances. Yes, usually I recommend three to four dances for people to start with in the beginning. Yes?
I do have some students that come in and say, "I only want to learn one dance. I don't want to get confused by anything else. I just want to focus on one dance and get it good and then I will move on to another dance after that."
The good thing about it is you will be able to just focus on one dance and be able to learn lots of moves for that just one dance and not get confused by any other styles of dancing. However, there are also a lot of cons to that, one of which is you will be able to dance basically to only one type of music.
For example if you're learning salsa and that's the only dance you want to learn, you will be able to dance to salsa music only. What if a foxtrot comes on or what if you're at a wedding and you have a Michael Buble song for example? Yeah? You would need to know a rumba or a foxtrot or a swing for that. Yes?
So that's the problem with learning one dance is that you're basically limited to dancing to one type of music. Yes? Now the other negative about learning only one dance at a time is that you're basically stuck in only one style and you don't have enough variety to kind of take your dancing to the next level because when you have other dances that you are learning, they all relate to each other and help each other out.
So maybe you will learn something in one dance and it's not working so well. But because you learn something else in another dance, it could help it. Yes? So there are a lot of cross-references between the dances. They all help each other and that's why I recommend that you are learning a few dances at the same time. Yes?
We have a lot of the same steps, a lot of crossovers. For example, in rumba and cha-cha, you have the crossover breaks, the back breaks. You have underarm turns and all of them. Yes? So they definitely help each other. It's not like they're completely different and they take away from each other. No, they actually all work together quite nicely and again if you're looking for social dancing to be able to go anywhere and apply what you're learning in your dancing, then the more dances you know, the better it's going to be for sure.
[End of transcript]
Related:
How to dance with a beginner
Types of Ballroom dancing – Article
Learning individual moves VS. routines
Do you need a partner to learn Ballroom dancing
How to become confident in your dancing