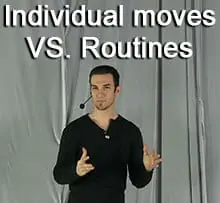 How do you learn new moves?
Do you learn each move individually or do you memorize an entire routine? There are pros and cons to both methods. In the video I explain my preference and perspective on this matter. Please leave your thoughts below.





[Transcript]
Hello and welcome to today's Passion 4 Dancing video podcast. Today we're going to be talking about, "Should you be memorizing full routines or should you be learning one step at a time?"
So here's the thing. Some people, they learn a whole bunch of steps in a combination one after the other and that's all they do. They memorize a whole routine and every time they dance with anybody, they go through that whole entire routine. Then another method is to learn how to do each move individually from the basic step. Yeah?
So which one is better? Well, in my opinion, for sure learning the individual step, how to do it from the basic step. Of course if you can do both, that's ideal. Yes? But let me explain a little bit more why I don't think it's a good idea for you to learn a full set of routine.
Here's the thing. When people are learning let's say 10 steps in a combination, one after the other, if your partner knows that routine, so if it's your wife or your consistent dance partner, usually you won't have any problem because they will remember the routine. So that's OK.
But what if you're dancing with somebody else? Yeah? And what if your lead wasn't particularly good that day and you did maybe two of the moves but then you didn't – you couldn't quite remember what comes next or the follower felt a little bit different. So you couldn't continue into your routine and then after that, usually people just get all screwed up and they don't know what to do because they don't have a second plan. Yeah?
Their only plan is to go through the entire single full routine and if that falls through, they have no idea how to go into another step. Yeah? So I think it is better that you know how to do each step individually so that you can dance the basic and then you can lead and follow into another move and then do a basic again and go into another move and that way you will be able to dance with anybody you want and you're not going to be depending on a certain routine form.
So yeah, of course you want to be able to know how to combine certain figures and it is obviously more interesting to dance if you can go through one move into another move and to another move. But I think that should happen more organically and you should be learning how to combine steps in different ways. If you only have one set of combination and something goes wrong, well, what are you going to do then, right?
So mix it up. Yeah? Make sure you know how to do each move individually from the basic and then also try to see if you can combine short combinations in different ways so you can see how you combine different steps in different ways, so that you're not depending on just one way and one way only.
What do you think of this? What do you do yourself? Do you memorize full routines or do you usually go for the individual steps? Leave a comment below.
[End of transcript]
Related:
Why we teach American Style
How to become confident in your dancing?
Do you dance enough?
Types of Ballroom dance styles/a>