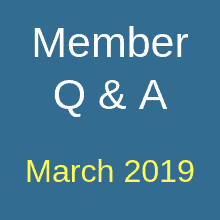 Here's the March 2019 episode of the member's Q&A where I answer member's dance questions.
This month I covered everything from "What is a good frequency of practice for a beginner dancer" to "Is it possible to interchange moves from dance to dance".
Leave a comment below if you have any questions.
Submit your questions for next Q & A (For April 2019 Episode)
Jump to any question:
Question 1 – Teach Swing or Jive in the UK?
Question 2 – Can I use Waltz steps in Rumba and vice versa?
Question 3 – How to deal with students in group class that aren't getting it?
Question 4 – Can I wear short sleeve shirts to dances?
Question 5 – Can I cast your videos on my TV?
Question 6 – Cha Cha using Quick, Quick, Slow, Slow, Slow Rhythm?
Question 7 – What frequency of dancing do you recommend for a beginner?
Question 8 – Where does Kim get her shoes?
Question 9 – How can I practice dance steps without a partner?
Question 10 – What can I do about a big callus on my foot?