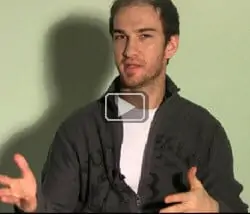 Do you feel like your dancing is just not improving despite all the time you put into it?
In today's post I'd like to describe to you something that happens to me almost everyday…
Understanding this point can make a huge difference in how you learn to dance.
—Transcript—
Repetition is the key to improving your dancing. And even if you watch our online dance lessons 100 times everyday, without repetition, you will not get anywhere.
You see when I am teaching my students and we are working on something specific in their dancing (Be it the steps, technique or timing), as soon as they get it correct once, they want to move on to the next thing right away.
And while I understand that everyone wants fast results… It is not enough to do something correctly once, so I usually jump in with: "Let's do that again!". I make my couples repeat what they did correctly 4-5 times slowly and then another 4-5 times with music before I even consider moving on to the next thing.
This is imperative because doing something well once will not sink in into your body and is certainly not part of you muscle memory yet. If you don't follow my advice you'll end up wasting a lot of time and money without making much progress….You will simply not remember what you worked on.
The key is repetition…
Furthermore, I suggest to let your professional dance instructor set the pace. He/she will know when you've really gotten it and it's time to move on. Trust yourself in their hands.
What do you think?
Leave a comment below.
Related:
Use a lesson combo (video podcast)
Do you switch partners?
Fundamentals first (Article)