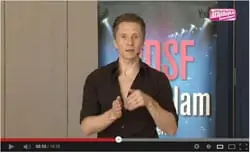 Today I wanted to to refer you to 2 amazing workshops that will teach you how to dance for FREE. Part of having this website is introducing you to the best dance instructions out there, even when the instruction is taught by somebody else. I think these two videos will give you lots of knowledge and inspiration in your dancing. I personally have had private lessons with one of the couples (Peter and Kristina) and know how truly amazing of teachers they are.
The level of instruction may a little more advanced and probably best suited for competitive dancers, but nonetheless, you should be able to get at least one new idea from them.
The first workshop is from Peter and Kristina Stokkebroe and while it's titled "Speed & Musicality" Peter also talks about posture, center, foot speed and more. Also, be sure to watch the entire lesson because at the end Peter and Kristina perform an awesome Cha CHa. Watch it below:

The second workshop I want you to check out is done by Alexei Silde and Anna Firstova. They will introduce you to a whole new way of counting and show you how to make your timing impeccable no matter what dance you are doing. They have a young Russian couple demonstrating their teachings who also happen to be the current world champions.
Watch the video now:

How did you like the lessons? Leave a comment below.
Related:
Dance posture tutorial
Cuban Motion Part 1
Cuban Motion part 2
How to practice dancing