Slavik And Karina's "Dancing Basics With Passion"
Dancing DVDs Review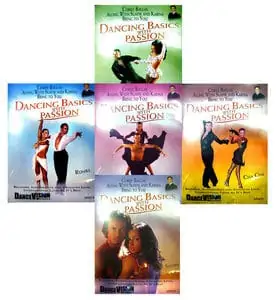 You can order the DVDs from the Dance Vision website (click on the banner):

The Review:
Overall Rating: The best dance DVDs on the market for learning the International Latin syllabus.
What You Get: There are a total of 5 Discs covering 5 different dances. Each dance comes in its own DVD so you can get only the dances you want or all 5 to learn the whole International Latin style syllabus.
Dances You Will Learn: Cha Cha, Samba, Rumba, Paso Doble and Jive.
Dancing Level: Pre-Bronze Level – Gold Level. Each DVD covers the full Pre-Bronze, Bronze, Silver and Gold level syllabus steps. In my opinion, every level dancer (including dance pros) should own these DVDs for reference. It is much easier to look up a dance step on a TV screen than to read a manual book.
Price: $99.00/Each DVD. In my opinion the price is justified since each DVD covers the FULL SYLLABUS OF ALL THE LEVELS! This means you will never need to purchase another syllabus DVD.
Refund: On their website policy it states that there is a refund for damaged items or erroneous deliveries. Otherwise, no refunds or exchanges.
Instruction Quality: Methodical, Clear and Thorough. The instruction is done by Corky Ballas (Mark Ballas' father), while the demonstrating is done by Slavik and Karina. The format includes an introduction and history for each dance followed by a demonstration of the dance figure to music. After that, for each dance step, there is a clear break down of the man and lady's steps with the correct timing. Lastly, there is an explanation of the "lead" in great detail. In addition to covering the syllabus steps, Slavik and Karina demonstrate a little routine at the end of each level (Bronze, Silver, Gold) to show how you may put steps together. And if that was not enough, there are also a few warm up dance exercises (with a slow break down) included to give students an idea of how to warm up and prepare their bodies for dancing.
Extra Notes:
If you are looking to learn the International Latin style syllabus, these are the DVDs for you! Slavik and Karina are one of the best professional couples of our generation and were the perfect duo to demonstrate the Latin syllabus. This dancing DVD series is presented by Corky Ballas, a U.S Ballroom dancing legend, who does all the talking/presenting behind the scenes. All 3 worked in unison together to create these awesome DVDs.
The Best Reasons To Get These DVDs Are:
1. All the Pre – Bronze to Gold Level steps are covered on a single disc for each dance.
2. Thorough break down of the steps, timing and lead for each figure.
3. Learn from one of the best professional dance couples in the world – Slavik kryklyvyy and Karina Smirnoff.
You can get more information about these DVDs, as well as order them from Dance Vision website (Click on the banner below) If you enjoyed my review please order it from the banner below and I will receive a small commission:

Slavik and Karina's Dancing basics with Passion4dancing DVDs

By Leon Turetsky
This review is my personal professional opinion. If you decide to purchase these dvds I will receive a small commission from the sale.