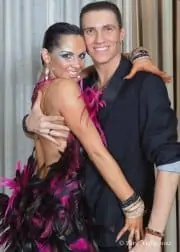 Here is a great clip taking you behind the scenes with one of the top dance couples in the world right now.
Anton Belyayev and Antoaneta Popova are the Canadian champions in 3 styles: Latin, Standard and 10-dance. They were also 3rd in 10-dance world championships last year! Watch this video to see how this top ranked couple deals with one another, stress, injuries, life and more.
Sweat, Blood and Ambition from Jenna Pietrantonio on Vimeo.