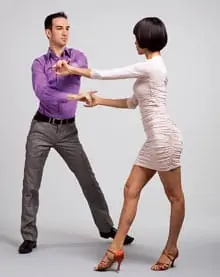 What makes a good dance teacher? In my lifetime I must have taken lessons with over 30 different instructors. Each one had a different way of teaching. Some would constantly show everything they want you to do, expecting you to copy them. Others would only talk about the overall elements you need and expect you to figure it out. Some were vague while others were very wordy… So the question is what is right?
There are many qualities that make a great dance teacher but I want to present 1 simple mantra that I believe makes the most effective type of dance instructor for most types of dancers – both social and competitive.
By that I mean the type of teacher that can make the most improvement in your dancing PHYSICALLY. I say physically because let's face it, there are some students that can write phd books on the theory of dance but can't execute any of it with their bodies…
After reading this article I would love to get your thoughts on it.
Let's dive in…
"Less but better" Mantra
"Less but better" is actually a phrase I am stealing from the book "Essentialism: The disciplined pursuit of less" by Greg Mckeown. In that book Greg teaches us how to do less by focusing on fewer things but accomplishing more. I highly recommend you read it! After reading this book I realized that the best dance teachers apply his principles on a consistent basis.
One thing I learned over time is that working smarter is wayyyyyyyy better than working harder. There was a point in my life when I thought the more information I get in my lesson the better it is. "I'm paying for it so might as well get as much as I can out of it…"
WRONG!
What ended up happening is I would get about 10 teaching points/subjects in a given lesson, but days later, I would only be able to recall 2-3 of them in my head and execute none of it with my body… Later, I had teachers who would teach one thing at a time and only move on once they felt I grasped it pretty well. The latter are the ones that made the most impact on my dancing. If I could just take away 1-2 new things and implement them into my body fully – it was a worthwhile lesson!
They understood that "over teaching" (and over talking!) only overwhelms people so they taught very few things but they made sure those things were executed well.
"Less but better" teaching style emphasizes 'execution' as opposed to 'giving information'. Meaning your teacher will most likely make you focus on implementing something specific right away during your lesson instead of just giving you lots of information and sending you off to practice later.
The reality is that most dancers don't lack the information… Often times dancers actually have TOO MUCH information! They just can't do most of what they know.
Teachers who practice "less but better" know this and teach very few things but expect you to actually do them.
"Less but better" leads to prioritization
In addition, because these teachers would teach fewer things per lesson they would prioritize WHAT to teach more carefully. The subjects they focus on will be absolutely the most important things you need at that point of time.
For example, while there are 100 aspects to making the cha cha locksteps look good, your teacher notices that your footwork in this step is completely wrong. So instead of teaching you the leg straightening, or the hip action, this type of teacher will first only focus on getting you to do the correct footwork. They will not move on until you can show them the correct footwork!
These lessons tend to be more demanding as you are expected to execute new techniques in real time – during the lesson – while the teacher watches you. It puts the pressure on you, the student, but this is a good thing because you get live feedback on how you are progressing.
As long as you are open to learning and don't take things personally you will improve much faster with this teaching style. Of course you will still need to practice those same things outside lesson times to make sure they stick.
What do you think? What type of teacher do you work with?
Leave a comment below.
Want More?
Ballroom dance styles
Essential dance elements
How to remember dance moves
Ballroom dance articles