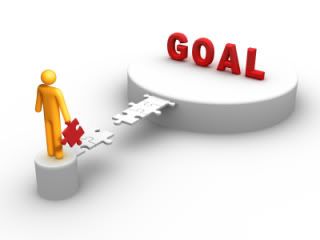 From a teacher's perspective, the best student to have is one who has a clear goal. A student with a goal will usually be more prone to take lessons consistently, practice and therefore improve. It is no surprise that teachers everywhere, myself included, love those kinds of students. I get inspired and energized when I work with them. It is important to note that it does not have to be a competitive goal, any person can have a goal that suits their needs.
Here are 5 examples of goals one might have:
1. A social dancer who wants to be able to dance an entire song without stopping at the next studio party.
2. A Pro/Am competitor who has a goal to compete on date X.
3. A wedding couple who wants to prepare for their first dance.
4. A student wanting to lose an X amount of pounds.
5. A couple who wants to perform a choreographed show piece at the next showcase.
As you can see, these 5 examples are extremely varied. What the goal is isn't as important as just having one!
So do you have a goal?