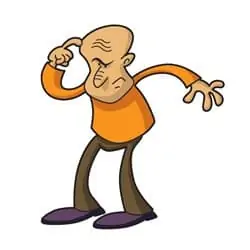 We've all been there…
You arrive at your social dance event, super excited to try out your new moves.
You think to yourself, today is the day I am really going to enjoy myself.
After all, you have been mixing up your dance lessons and practicing regularly.

But then as soon as you get on the floor and a cha cha song comes on – you freeze!
Suddenly, your mind blanks out and you can't even remember the most basic steps.
And even if you do remember the basic step, you certainly can't remember any of the other cool moves you learned.
Why is this happening?
A change of environment or stimuli can be the problem.
I want to make something very CLEAR… Remembering the moves well in your lessons DOES NOT necessarily translate to remembering them at a public function.
In your lessons you are somewhat comfortable. You are in a controlled environment with a teacher looking over you. You are not in a room full of other people, with dim lights and disco balls.
What I'm saying is that your new environment affects your ability to remember.
In the paper "context dependent-memory: The role of environmental cues", Mitchel Metzger phd, states:
"It has long been known that environmental cues serve as important factors in the expression of memory. Carr (1925) stated that memories can only be remembered in the presence of stimuli with which they were originally associated. As an example, he stated that "subjects who memorized material in a certain room, and in the presence of a given experimenter make poorer records when tested for a recall by another person in a different room."
Source: http://works.bepress.com/cgi/viewcontent.cgi?article=1011&context=mitchell_metzger
So what can you do about it?
The most obvious answer is to throw yourself into many different types of environments so that you can slowly acclimate and perform as well as you do in your lessons.
Here is a list of some of the dance events you can attend:
1. Studio dance parties
2. Night clubs
3. Competitions
4. Weddings
5. Parties at work
6. Birthday parties
By going to these events regularly you will be training your brain to focus and recall your moves.
Over time you will develop your own unique systems of how to remember better in new places. But let me give you a personal trick of mine that will really help you.
My personal trick: Visualize 3-4 moves before you do any dancing
So you arrive at the club/party and after a few hellos an awesome Swing song comes on, to which you want to dance to… So what do you do?
Don't just go and start asking ladies/men to dance with you right away. Instead, take a few seconds to visualize 3-4 Swing moves. Start with the basic step and then SEE how the transitions into other moves happen – in your head.
Visualize in great detail how you are going to dance.
Only after that you can go and ask a partner to dance with you – confidently.
Visualizing is an extremely powerful technique that will focus your mind on the dance at hand. Instead of taking your partner on the floor and hoping you will remember what to do, you first rehearse the moves you want to do in your head and then bust them out after.
Do this for every single dance and you will have a much better success at remembering your figures.
I hope this article has helped you. If it did, please share it with someone who can learn from it too. And leave a comment below…
Thanks
Leon
Creator of Passion4dancing.com