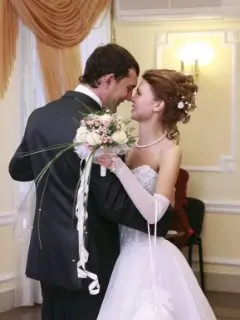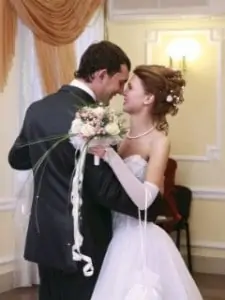 This is a guest post by Jenny Wells.
Your first wedding dance is going to be something you remember for the rest of your life. This is the first time you and your husband will step out on the dance floor and get to share some time together. Although you may have stressed about all of the other wedding details – your wedding dress, finding the perfect wedding shoes, the flowers, and everything else, the wedding dance should be the time when you relax and have fun. But, how do you have the most fun without having to stress about it? The best answer – wedding dance lessons! We here at WeddingFeet.com are big advocates of wedding dance lessons. Here are our top 5 reasons why you need dance lessons for your wedding. Read over these reasons carefully before you decide against the lessons. You just might change your mind after you realize how important they are.
1. Reduce the stress and be prepared: First and foremost, the best reason to receive wedding dance lessons is to take the stress off of the two of you. Unless you both are avid dancers and have taken lessons together in the past, the idea of a wedding dance could sound incredibly scary to you. Days before the wedding, we have had brides call us in a panic to receive referrals for dance instructors. Instead of getting to this point, book yourself some dance lessons so the two of you will be prepared.
2. Knowledge & experience: A key reason to book wedding dance lessons is that your instructor will have much more knowledge and experience than you. S/he will know what type of dance you could perform, how simple or hard to make it based on your requests, and how to create a dance that makes the two of you look wonderful. On your wedding day, you definitely don't want to be tripping over yourselves and your instructor will make sure you don't.
3. Figure out key details: What song should you dance to? Does it have the right beat? How should you make your grand entrance? One of the best things about having wedding dance lessons is the tips you will pick up from your instructor. S/he will be able to help you answer all of those questions and provide you with a list of suggested songs that you will be able to dance in rhythm too. Again, one less thing to worry about!
4. Practice: A great reason to have the dance lessons booked and ready is so you and your fiancé can get some practice time in. Lots of times, you will find you are both running around figuring out so many details that you won't schedule in your dance practices if you do this on your own. Plus, the dance lessons will have a venue similar to your own dance floor of the location you are renting so you can practice on a real dance floor. When you do this, don't forget to bring your wedding shoes to practice so you get used to dancing in your real shoes.
5. Relax and enjoy: Finally, one of the best things about having lessons is that you can relax and enjoy yourself both before and on the day of your wedding. You won't be sweating and looking at a piece of paper of all of the dance steps that you might have written down. Instead, you will be able to relax and enjoy your first dance with your new husband.
About Jenny Wells: Jenny is a wedding stylist and writer for WeddingFeet.com. She is one of 6 shoe stylists who select the best bridal shoes to display from all of the online stores. She has helped countless brides put together their wedding day outfits from the dress to the hairpiece to the bridal shoes. She also writes about her style selections on the WeddingFeet blog.