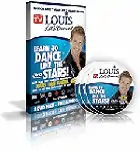 "Learn To Dance Like The Stars"
Louis Let's Dance – Ballroom Dancing DVD Review
Louis Let's Dance Official Website
This is a Latin & Ballroom Dance instruction DVD
With Louis Van Amstel (From "Dancing With The Stars")

Watch a sample of some of the moves you will learn:

Get the DVD now
WHY CHOOSE THIS DANCE DVD SET?

Master 8 Hot Dances!
Learn in the privacy of your home.
Learn at your own pace.
Express Your Personality.
Get In Shape!
THE REVIEW

Overall Rating: Great Value For Your Buck! Recommended For Fast Learners.
What You Get: A set of 8 DVDs teaching you 8 Latin and Ballroom dances. Plus an audio CD as a bonus.
Dances You Will Learn: Salsa, Cha Cha, Foxtrot, Jive, Rumba, Samba, Waltz and Tango.

Instruction Dance Level: Advanced Beginner – Intermediate Level.
While this Latin & Ballroom Dancing DVD set is intended to suit beginners, I would only recommend it to advanced beginners and intermediate level students. The reason being is that Louis Let's Dance Instructional DVDs move through the figures fairly quickly and without some dancing foundation newcomers may become frustrated.

Price: $99.00/8 DVDs. That comes out to $12.38/disc = Pretty awesome. Compared to other DVDs on the market this is one of the most inexpensive price/disc you will find.

Refund: Yes. 60 day satisfaction money back guarantee

Instruction Quality: The instruction is quick and to the point.
The teaching method is simple and easy to follow. You are taught an entire choreography piece for each of the dances – and what beautiful pieces they are! The DVDs lead you through figures 1-2, review, figures 3-4, review, etc…with a few tips and explanations in between. The steps are taught but not broken down in great detail. Its pretty much monkey see, monkey do type of learning. For some of the faster learners this may be a good thing as they will not get bored! Another thing you should know is that these are not technique videos! Louis does explain a few elementary technique elements but overall you should use these videos to learn choreography and steps, NOT TECHNIQUE! In conclusion, these DVDs will teach you many great basic, intermediate and advanced figures that you can enjoy and use in social and competitive dancing.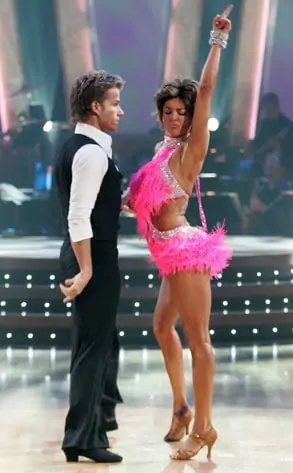 Ordering The DVDs: The ordering process is extremely easy. After completing the secure online payment, you are brought to a page where you can download all the files instantly! No shipping or handling costs and no need to wait for delivery.

Extra Notes: Louis Let's Dance instruction DVDs get a lot of credibility because Louis Van Amstel produced them and teaches in them! I am sure that you are familiar with Louis Van Amstel from hit shows like "Dancing With The Stars" and "So You Think You Can Dance" where he performed and choreographed many of the dance numbers. It is worth noting that Louis is also a 7-time Dutch National Champion in the Latin Dance Sport Style.
Also, Louis' dance partner in the videos is the gorgeous Irina Boubnovskaia who is quite an accomplished dance professional herself. Her feminine beauty together with Louis' masculinity makes them the ideal couple — Just watching them dance together will make you feel sexy!
Overall, these Ballroom dancing DVDs are very easy to follow and most advanced beginner-intermediate level students will appreciate the value they will get for their money. If you are interested to get more information about Louis let's dance DVDs or order them please visit:
Louis Let's Dance Official Website – Order Here!

—————–
Review by Leon Turetsky
This review is my personal professional opinion and I hope you found it useful. If you decide to purchase these dvds I will receive commission from the sale.