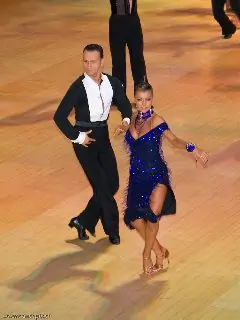 Last week Kim and I had lessons with the fabulous Markus Homm. I thought I'd share an important practice tip we learned from him. But first some background. Markus Homm competes with his partner, Ksenia Kasper, in the International Latin professional division (representing Germany). They are one of the world's top couples, currently 7th in the world! Watch their video at the end of this post.

So what is the important tip?
At one point, Markus said that he doesn't believe in giving his students lots of information during the lessons. Instead, he gives them only 1-2 things to focus on and helps them implement it everywhere. He revealed that sometimes him and Ksenia dance basic routines with only one technical focus in mind. For example, they choose to concentrate only on foot speed/sharpness for a whole 10 minutes. They do the basics thinking only on how to shoot out their legs as quickly as possible. Then they focus on a different technical element and repeat the process.
There are many advantages to practicing this way. Since you are only focusing on one thing at a time, you train your muscle memory to automate the movements. In addition, you don't get distracted by all the other things you need to be doing such as hips, lead, arms, etc… For those 10 minutes, you only think about one thing!
I will definitely be implementing this into my practice routine. Will you?
Some of the things you can focus on 10 minutes at a time are:
– Foot speed/Sharpness
– Footwork precision
– Lead and follow
– Timing and musicality precision
– Fuller body actions
– Arm styling
– Connection to your partner
Markus and Ksenia – Samba Video:

What are your thoughts?
Written by Leon T.
Related articles:
A brief guide to dance practice: My 5 step model