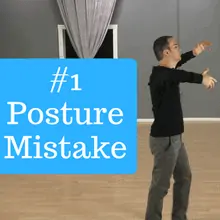 In today's video I talk about the most common posture mistake I see beginner dancers make. I explain what it is and then give you 2 specific exercises you can do to fix this. What do you think? Leave a comment below the video!
Watch the video and let me know if you have any questions.


Was this useful? Leave a comment!
Related:
Correct posture for Ballroom dancing
Closed dance hold in Ballroom dancing
Types of Ballroom dances
The Blog