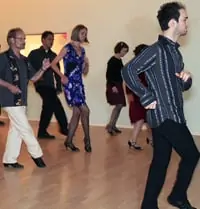 Come on, can I REALLY learn dancing online?
So you are eager to learn how to dance and you come across a great website (like passion4dancing.com!) that promises to teach you dancing online.
This website seems to have all the right resources to teach you how to dance. They have online dance lessons, articles, video podcasts and more.

But yet, you are skeptical and unsure whether you can really learn how to dance online. You may say to yourself; "If I really want to learn how to dance, I need to go to my local dance studio". And you are definitely correct! You do need to learn how to dance in the real world. But, you also need EXTRA resources outside your local dance classes to become the best dancer you can be.
You see, an average person may attend 1-2 dance classes per week. But how much do they actually remember from those classes? Unfortunately, the truth is not much…
That is exactly why you need to supplement your real-world classes with online dance classes. One of the biggest benefits to learning dancing online is you will be able to REVIEW all those moves you've been learning in your classes.
Other benefits to learn dancing online:
– You will get extra dance technique tips on how to do the moves you know better.
– You will be able to watch the videos as many times as you want.
– You will be able to watch the videos when you want – available 24/7 online.
– You can download the dance lessons and watch them without internet connection.
– Learning to dance online is much cheaper than taking physical classes!
So don't hesitate about learning to dance online. Give it a try!
Want to get access to over 45 online video lessons?
Learn about our membership plans.