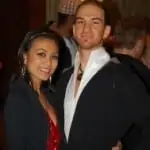 I am happy to announce that I am officially opening a dance studio in Newton MA (Greater Boston Area).
Up to now I have been renting space as an independent instructor at various studios around Boston. So it's nice to finally have a place that I can call home. For those of you who are in the Boston area, you can check my local business website here (www.Leonsdance.com). There will be an open house party with free classes on July 30!
In the new studio I will have the ability to run more group classes, parties and various dance programs for adults and kids.
I will also have a place where I can produce dance video lessons faster and easier for Passion4dancing members. Up to now, I had to use another studio's space at nights (when all the lessons were finished). Most times we taped from 11pm to 1am… It took us 1 hour to set up the equipment and 1 hour to shoot 1 or 2 lessons. I am just glad our videos came out cheerful and energetic, despite the late hours! Now we will have all of the equipment set up and ready for shooting at our will.
I will officially take over the space on July 1st! Off to planning…
Leon
Creator of passion4dancing.com