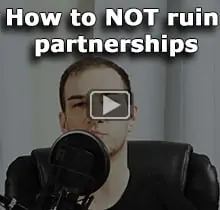 Having a dance partner is great – but how do you progress together? And should you tell each other what to do? In this video I tackle this head on. It is important to strike the right balance between working on things with your partner VERSUS demanding them to do what you want them to do. If you have a regular partner who is your friend or spouse you will enjoy this video.



Related:
A guide to find a dance partner
Tip for leaders – Be assertive!
What if your partner is off timing?