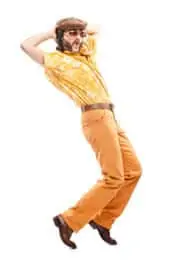 There exists a curious phenomena in modern society today…
At social events where there is dancing, you'll notice that there will be many ladies on the dance floor dancing by themselves or with their girlfriends. This begs the question – where are the men?
You will find them with their beer, hovering several feet away, trying to not look awkward and out of place.
In today's society most men don't dance. They are scared to learn how to. They're scared because society views dancing as unmanly. But this could not be any further from the truth. In fact dancing and men have interlinked throughout history. Dancing has played a vital part in one endeavor which is very manly : war.
"Originally, ritual war dances were performed by tribes preparing to go into battle. The dances energized the actual combatants for their task ahead and rallied support from the onlookers by generating or strengthening the belief that the enemy was an evil that needed to be defeated. Although the notion may seem archaic, the war dance is still extremely popular today in the United States. It is called professional wrestling. In a carefully choreographed performance, the wrestlers adopt images of the national hero and the social evil du jour, whether it be Russian communists or corporate America. Seeing these conflicts enacted in the ring reinforces the social values of the audience, a function that war dances have served throughout history." – http://www.barbarycoast.org/Ritual.htm
Ever watch football? What does the player do when he scores a touchdown? Yep – he dances. We don't think that's unmanly do we? As a matter of fact, it is shown that the athleticism of high level dancing can rival that of any other professional sport. Tests show that a professional dancer spins at 180 RPM which is 4 times the speed of a record player spinning. This is 5 RPM more than the average tennis serve speed of 175 RPM!
The competitive nature of men is also a hindrance in why they don't want to dance. Many men think they need to be really good in order to do it. They see dancing as a skill to show off. Being 'better' than other guys on the dance floor is important to them or they don't want to do it. They adopt an "all or nothing" attitude while forgetting that to get to the top, you have to work at it. If only men used their competitive nature in learning how to dance they would acquire another much needed manly skill.
So why should men learn how to dance?
Reason #1: Romance your partner
Being romantic is a skill set and dancing is an invaluable tool. From the moment you extend your hand and invite her into your arms, the mood is set. You have created romance.
With a good posture and frame you will be able to lead your partner across the dance floor and make her feel feminine and taken care of. This is something that a lot of women complain is missing from the modern man. Even women who usually "lead in everyday life" want to occasionally follow and have their man take care of everything. Dancing is the perfect opportunity for this.
Dancing gives a man the chance to be very chivalrous. In the victorian era, men had to use a very gallant etiquette when asking a lady for a dance.
Here is an example from Howe's complete ballroom hand book, 1858 and http://www.victoriana.com:
"When introduced to a lady, a Victorian gentleman was particular about how he asked her to dance, and the manner in which he bowed to her, and also of requesting to see her card; ladies were susceptible of first impressions, and it depended a good deal upon the manner in which the gentleman first presented himself."
Reason #2: Widen your social network
When you know how to dance you will be more comfortable and confident at any social events where dancing is involved such as weddings, nightclubs, social parties, corporate events, etc. Instead of standing around while everyone else is dancing, you will be able to participate and have more fun. As a result, you will widen your social circle and establish important relationships.
In the Victorian era, royalty used to host many "Balls" (dance parties) where men and women gathered with the purpose of making social connections. Everyone would dress up in the richest and finest clothes, wear all the family jewels, chat and dance the night away. You can read more about victorian balls here: http://www.victoriana.com/Etiquette/ballroomdancing.htm
Reason #3: Dancing is a workout like no other
What would surprise many men is that Ballroom dancing is a whole body workout. Over my years of teaching I have seen "gym rats" struggle with the simple task of maintaining their frame upright throughout their lessons. Their arms tire fast even though they believe themselves to be extremely fit.
You see, most men only exercise the big muscle groups such as biceps and triceps, quads, etc. But dancing exercises all muscle groups including muscles that are hardly used and therefore weak. It is also one of the best workouts for the "core" since you must always keep it engaged to maintain the correct posture. Partner dancing combines strength, flexibility and endurance into one activity.
From livestrong.com:
"As you move across the floor, the muscles in your legs and buttocks become stronger and more toned. Because ballroom dancing often requires you to move in unusual ways, such as gliding backwards or jumping sideways, the activity helps train muscle groups that may rarely receive a workout."
Read more: http://www.livestrong.com/article/387295-ballroom-dancing-exercise/#ixzz2Pt3GcwlF
———————
As you can see, modern men need to learn how to dance. Dancing will make you more romantic, social and fit. Many of today's social events usually include dancing and not knowing how to dance excludes us automatically from making the most out of them. Do not let the process of learning stop you from getting started. Check out our online Ballroom dance lessons to get started right now.
Written by Leon Turetsky & Kim Le