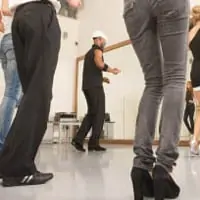 1. Take dance lessons consistently. Whether its group classes, private lessons or online dance lessons you need to keep sharpening your dance knowledge.
2. Practice frequently. Make it a habit to practice as often as you can. Watch this dance practice video for a guide to practicing.
3. Go out dancing on a regular basis. You need REAL WORLD experience. Go out to a nightclub, a Ballroom dance party or a studio party for social dancing.
4. Have a goal. Having a specific goal will motivate you to get better quickly. Work towards a competition, a showcase or a wedding dance.
5. Dance with people better than you. This will push you outside of your comfort zone and challenge you to adapt to your partner very quickly.
6. Visualize your dancing. Have a clear image of what you want your dancing to become. This clarity will help you work towards the dancer you want to be.
7. Make technique a priority. Remember, it's not what you do, it's how you do it. Even basic steps can look amazing if done well. Work on your standing leg, your posture, frame and other technique elements. View our technique dance videos.
Hope you enjoyed these!
Leon Turetsky