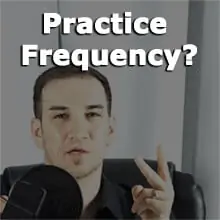 One of the questions I get is "how often/much should I practice?"
Of course the more you practice the better dancer you will become. In this video I reveal one rule of thumb which will give you a good way to know the amount of practice you should be putting in.


[Transcript]
Hello and welcome to this Passion4Dancing Podcast. Today I want to answer another question that I get often and that is, "How often should I practice my dancing?" Well, the answer is as much as possible. Well! OK.
But let me give you a rule of thumb. OK? Basically if you have one hour of lessons per week, you should practice an equivalent amount on your own on top of that. So basically one hour of lesson equals one hour of practice.
If you have more than a one-hour lesson, let's say you're two lessons a week, you should practice two hours on top of that. So they basically should be equal. Yes? I see so many people out there that only take lessons or classes but they never practice. Yeah. And the people that really get ahead and really improve fast are the ones who also practice because it's in the practice where you really retain all the information.
Lessons are great for getting information, getting knowledge, right? In getting inspiration. But at some point, you also need to put it into your body, right? Otherwise, you will end up repeating a lot of the information in your lessons again. Yeah? You will get the same thing over and over because you won't be able to move ahead because the teacher will see you haven't really quite mastered what you did last time. So I definitely recommend that for every single lesson that you do, whatever or how much time it is, you also practice on top of that an equivalent amount of time at least. Yes?
That will really help you progress much faster than someone who doesn't do that. So how often do you practice? Leave a comment below.
[End of transcript]
Related:
How to become a confident dancer
Ballroom dance practice guide
Learning new moves VS reviewing moves
More dance articles and tips